Welcome to Kilbrennan Bed & Breakfast
Whether you are looking for a restful, slow-paced break, or one filled with activity, Kilbrennan Farm on the Isle of Mull offers all the modern comforts you need within an historic farmhouse building, amidst one of Britain's most stunning landscapes.
Even other residents of Mull, used to living on Britain's renowned 'wildlife island' have told us that Kilbrennan is special.
Set on a small promontory, every room (except the bathrooms) has views of the sea; the house is surrounded by pasture, and slopes wooded with oak, hazel, ash and other native deciduous trees. Above these rise magnificent hills, perfect for walking.
Among the creatures we share this space with are wild red deer, which regularly graze close to the house, otter in the bay below the house, and an abundance of bird life, including of course Mull's now iconic resident, the white-tailed sea eagle.
Do take a look at our site.
We look forward to welcoming you to Kilbrennan…
Anna Hogan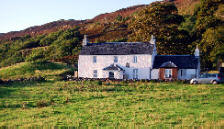 The Farmhouse
Kilbrennan Farm was modernised in 2005-6 for domestic rental and is part of the Torloisk estate. We are the first tenants to have lived at Kilbrennan since its modernisation.
Whilst we only rent the house and garden, the land around us is actively farmed. The lifestock outside the gate can include highland cattle and hebridean sheep.